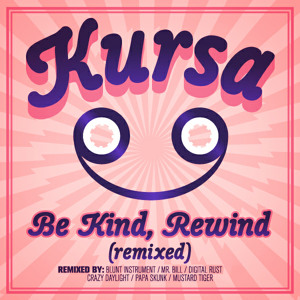 This is worth the wait - all the dopest new tracks released by hard working labels and artists to feed your monthly glitch habit. Get in that virtual shopping cart and load 'em up!
OUT NOW
It's finally here! Bill Breakspear's Bardcore came out last month and we've been rocking it ever since. Full spectrum mix of music present, but we particularly love Respect, Side Step and all the voal tracks
Easily one of the biggest releases this month, some of our favourite producers including Mr Bill, Mustard Tiger, Blunt Instrument and Digital Rust remix Kursa's instant classic Be Kind Rewind for Adapted Records. *Awesome!*
Kursa and Mouldy Soul have returned the favour by remixing Mr Bill's Cerebellum Serenade for Adapted Records. Such a beautiful tune!
LOVING both these remixes from London's Standard and Push!
Alongside Corticyte, Riddim Fruit head honcho Hidden Riddim has showcased his deep bass with this EP featuring Born ina Barn. "Where's my glitch? There is is!"Love the lyrical stylings and the scratched-out, glitched-up on the bside refix
London producers Kisbeat! & Chemical slowed things down for their first EP on Adapted and it's sounding sick
DCarls collaborator Maksim has released this banging EP with Retrospect through Play Me
Muti Music dropped FreQ Nasty's Dread at the Controls remixes just before Glade, including an epic slab of bass hype from Culprate and tasty glitch from Sugarpill and Lowriderz. I know he's a Kiwi living in LA but he's still ours, right? We've got a wicked interview with him coming through for you soon
Jump Music affiliate Spenghead aka. Spectic Insurgent released this sludge-glitch beauty back in May. If you enjoyed Thursday night at Glade, you'll love this
We played a Phantom Shilla track on Glitch.FM a few weeks back and you can now get the whole EP on bandcamp - name your price!
On the outer edges doing his own thing, dope Fracture remix from Om Unit
FORTHCOMING
We've been waiting for this debut EP from Bristol's Pistol Shrimp for some time now. It's out on Prime Dub at the start of July. Whoop whoop!
Oh... and did we mention the Mouldy SOul remix?
Olmec's release a shedload of electro filth through lables like BroKEN Records, but he's now applying his skills to midtempo on this release for Wonkay Records out 6 July. Boom.
Inception Records release these melodic beauties from Cerebral Theory, whose last EP was on more of a dark d'n'b neurofunk tip. Check their soundcloud for more like that
If you'd like to be considered for future round-ups, add your tunes to the
UK Glitch Hop Soundcloud Group
or send your dubs to ukglitchhop [at] gmail [dot] com