When Corporate Propaganda came out on Muti Music in early 2010, I was delighted to see that it'd been made by someone from the UK. Now, although he's currently lounging around on a beach somewhere in Thailand, Inaudible has found the time to give us an interview and a guest mix for UK Glitch Hop on Glitch.fm this Wednesday 28 March, 10pm-12am GMT.
Here's the Facebook event:
Morbidly Obese Midget + Inaudible guest mix on Glitch.fm
Or you can
listen to the UK Glitch Hop archive here
How would you describe your particular style of glitch?
Bass driven electronic music. I like to think that the bass/lead are creating the groove rather than the drums (obviously they work together too). I try to change up what I'm doing as much as possible so that it isn't too pigeonholable. I like to make music as slow and heavy as possible but still with enough groove to dance too, lately I've really enjoyed making half time stuff at 100-110.
When I play out I play stuff a bit wonkier than what I produce, I love awkward swung slow grooves, anything which is difficult to put a genre tag on. Which is why I guess I like Glitch-Hop so much, it's very difficult to pigeonhole as a genre.
What first turned you onto glitch hop and mid tempo?
I was getting quite into the more glitched end of breaks / prog / techno (NuBreed, Luisine, Andy Page, Habersham etc…) when I stumbled across a couple of SOTEG tracks. I think it may have been his track Ebeneezer which first cracked it for me. From there I discovered Kraddy, I remember the illegal album getting a silly amount of listens early on which obviously led me onto the Glitch Mob, Bassnectar, Vibesquad… then BOOM!
A few big tracks for me early on were:
Son Of The Electric Ghost – Ebeneezer
Kraddy and Bassnectar – Snake Charmer
Bassnectar – Zealots Slowed Down
Your had early releases through Muti Music and Car Crash Set, two of the major glitch hop labels in San Francisco. How did they come about?
Other than 2 early tracks, the
Corporate Propaganda
and
Game Theory
EPs were my first productions. I sent the Corporate Propaganda EP around a bunch of my favourite labels to try my luck, and Dov from Muti said he'd release it. Which I couldn't have been more stoked about,
Muti Music
being my favourite Glitch Hop label. Similarly Cosby at Car Crash Set said he would pick up the Game Theory and Black Swan, which was wicked.
Car Crash Set
have had some amazing releases.
Since then other than a few remixes I've been doing my own thing. I don't seem to be able to make anything resembling a cohesive EP. I just make whatever I feel like at the time and end up with a collection of tracks varying quite a bit in style, so I've been putting them out myself. Maybe if I was a bit more patient and held onto tracks for longer they would have more cohesion, however I just sort of want to get tracks out there as soon as they are finished.
You've been featured on both the recent Beta Birmingham comps, what's the scene like there?
Obviously Dubstep is pretty big here, as it is everywhere else at the moment, a few nights cater for the deeper stuff and a decent amount of electronica passes through town. There's a reasonable amount of Glitch Hop being played at the moment, mainly at the Hare and Hounds where sometimes a bit of Glitch Hop will be played, just not as the main attraction. However The
Beta Birmingham
crew have just started putting on
Bi-Monthly events in Brum
, at which Glitch Hop is heavily supported. Last month they had William Breakspear down and next (13th April) they have
Mouldy Soul coming to town.
So big things be afoot.
Where are you now?
I moved to Bangkok where I am teaching English for the year, don't worry, I'll be coming back in the UK
You manging to play or produce much out there?
Zero at the moment. For the first time in 3 months I have something resembling a studio. Now I'm a little more settled here (had a crazy first 2 months) I'll start hitting the bass nights and try get involved in the scene here. There's a LOT less electronic music here than in the UK.
Have you got the gasmask with you? Is it a pain to play in?
No I've not brought one over to BKK with me (I have 3 of them) however I will get one shipped over soon. It's an absolute arse to play in, if it's hot as it steams up, I need to sort some ventilation out inside of it so that my panting doesn't steam it up so much.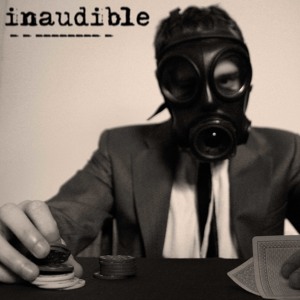 What's the craziest gig you've ever played?
Have played in a venue a few times in fancy dress because I was barred from the place, and at another gig some idiots started throwing rocks through all the venues windows it was like a warzone in there, however I've not played out to any silly large numbers of people. I played to more people when I was playing breakbeat before I got into production than under the inaudible pseudonym, this needs to change.
What's your favourite track at the moment?
heRobust – Facebook Lift, heRobust is on fire at the moment, he just put out a double album on the Saturate! Label which is fire, I'm completely blown away by how future it is.
Who's inspiring you at the moment?
Robert Glasper, Dimlite, Dorian Concept, Lapux, Robot Kotch, Tipper, Swarms, Nicolas Jaar, Flako, James Blake, Rumpistol, Eskmo, Spoonbill, heRobust.
Who are you looking out for in 2012?
On the UKGH Tip: Breakspear, Mouldy Soul, Beat3. General Glitch Hop: Freddy Todd, Love and Light, Blunt Instrument. On the Wonkier tip: Dolor, Moa Pillar, Baconhead, Squeaky Lobster, +Verb, Coco Bryce, Swede:Art
You've recently remixed +Verb, Splatinum and Freddy Todd? What have you got in the pipeline?
Nothing at the moment I'm afraid. I haven't touched Ableton for nearly 5 months now, life has been getting in the way. However as of this week, for the first time since December, I have something resembling a studio (desk, laptop, decent headphones and a controller) so as of now I'm back in the studio, if you can call it that. Which makes me immensely happy, I've missed making music so much.
When's the next beach party?
It's Songkran festival in a few weeks so there could well be a week long water-fight / party planned on the cards.
http://www.inaudible.org.uk
http://www.twitter.com/inaudbleuk
http://www.facebook.com/inaudibleuk
http://www.myspace.com/inaudibleuk
http://soundcloud.com/inaudible/